BLOG HOP
THE UNICORN WAY
Today, July 2nd is dedicated to our forum members, young and old and to each of you stopping by to give you an inspirational lift. WE love our customers and friends so we wanted to share an early glimpse of the July Kit of the Month – Once Upon a Memory which goes on sale tomorrow July 3rd at Midnight eastern standard time in the Flying Unicorn Store . There are no sign ups for our kit, it is first come, first serve. We believe that Scrap booking should be a passion not an obligation .
Creative Team and Alda share sneak peeks on the forums a week before the kit is released, giving you a glimpse of what is to come on the 3rd of each month .
Today, July 2nd we decided not only to give you a few more sneak peeks
But also a little close up to what is inside the main kit


Are you drooling over these images? Well, here is a layout I created using the July Kit....
Once Upon A Memory
I am not allowed to show you any more.....you will have to wait!!!!!!!

So you want to Win the Grand Prize - Tim Holtz Vagabond??????????????
… and want know how … well keep reading on ….
Every month we host challenges...we love to inspire our members and get them to try new things! And is the process we learn too!
This month my challenge is Lay it on Me

I want you to create a layout where you create the background by layering or overlapping shapes. I want you to pick a shape - stars, ovals, squares whatever and overlap them to create your background. I also want you to use buttons AND something in your stash that is at least 6 months old....here is my example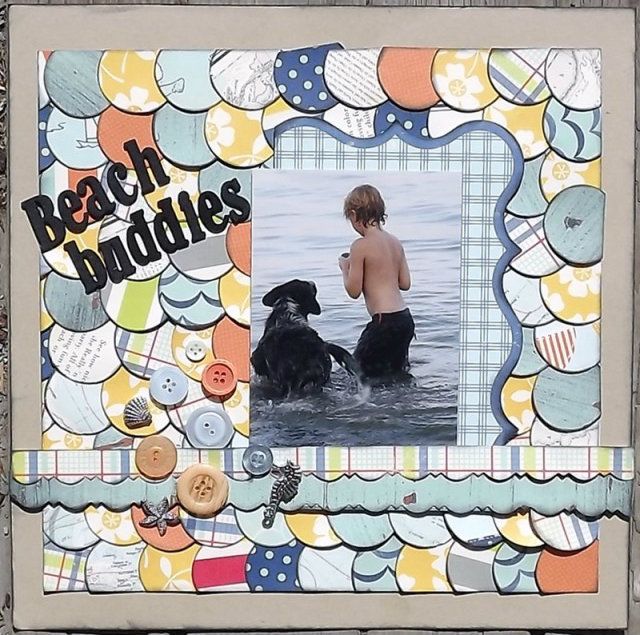 Click here for the forums to read more ….
So now the rules to make the Vagabond Yours and yours alone ….
1 - Write down my name - LAURA - and my special word - SWEET - you will need it at the end of the hop
2 - Make sure you leave a comment on ALL creative Team Members blogs (excluding the FUL one as you can not comment on that one)
3. Make sure you are a follower of EVERYONE in this blog hop
4. Make sure you are a member of the forums
5. make sure you have the email address cs@flyingunicornllc.com written down and ready to go
6. Head on over to the final stop - the forums - to be eligible for the Grand Prize
So your next stop on the blog hop is Denise....wait to you see her creation - wow!

Don't worry if you get lost along the way just hop back to the Unicorn Blog...Alda has listed all the blogs in order!
Alda, the generous lady that she is, has supplied a RAK for each of our blogs....so don't forget to become a follower and leave a comment on my blog!
wanna see the RAK?


Have fun and enjoy the inspiration!