I love Bo Bunny....but I think I have said that before! LOL!!!! I worked again with their papers....
From the Dreamer store I used BoBunny Beau Jardin Paper & Art Institute butterfly
other items used; glitter, crafts letters, Heidi Swapp letter masks
here are the details;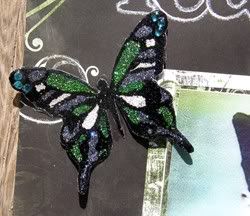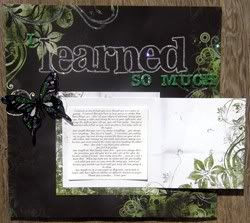 the journaling reads...
I learned so much from you even though you were gone so young. I learned that you have to keep going no matter how hard things are. After all your physical ailments, losing your legs, having a stoke and losing the use of your right arm, and losing the sight in your left eye, you still kept going. You got a motorized wheelchair so you could go places and play cards at the legion.
You taught that you can't cry about everything….you always were laughing. You loved to laugh….I remember you putting me on your lap and driving around the house on your electric wheelchair and running me into walls and almost tipping over because you went around the corner too fast laughing the whole time! You didn't cry about your ailments,
you just kept going.
You taught me that family came first….you were always there for grandma, you did your best to take care of her after she became confined to bed. You really loved her….even as a kid I knew that. When my mom was an infant and she got deathly sick while you were on leave from the army you risked jail because you wouldn't go back until you knew she was going to be okay.
You taught me to accept people as they were, not to look at people who have different abilities as different, but just as people.
Thank you Grandpa….I love you!
And this is Ty's Kindergarten Graduation...
using Basic Grey Marrakech papers, American Crafts Thickers, Tim Holtz edge distresser, American Crafts brown pen, & Sakura gelly roll pen from the Dreamer store.
Thanks for looking!